Grilled ground Beef with ground coriander seed, ground cumin seed, cinnamon, allspice, ground ginger, black pepper, cayenne, garlic, minced onion, chopped parsley. Comes with your chioce of one Free Side Dish, Meal for one Person.
Avi Glatt
Meals are prepared fresh made to order
Can be heated in a microwave, oven and/or hot plate
Comes in plastic container with double wrap plastic sealed
"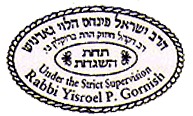 Rabbi Gornish
Rabbi Gornish