Sliced Baked Beef Brisket, paprika, salt, pepper, onions, garlic, ketchup, red wine. Comes with your choice of one Free Side Dish, Meal for one Person.
Avi Glatt
Meals are prepared fresh made to order
Can be heated in a microwave, oven and/or hot plate
Comes in plastic container with double wrap plastic sealed
"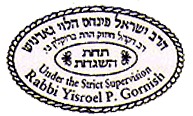 Rabbi Gornish
Rabbi Gornish
---
Customers who bought this product also purchased
---