Serves 18 People, kibbeh is a dish made of bulghur, minced onions and finely ground beef then fried. Best known for it's torpedo-shaped.
Avi Glatt
Prepared fresh made to order
Comes in 9x13 aluminum pans
Can be heated in a microwave, oven and/or hot plate
Comes in plastic container with double wrap plastic sealed
"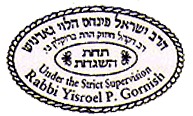 Rabbi Gornish
Rabbi Gornish