It's made with thin veal cutlets that are first browned in butter and then simmered in a tangy, lemony sauce. Comes with your choice of one Free Side Dish, Meal for one Person.
Avi Glatt
Meals are prepared fresh made to order
Can be heated in a microwave, oven and/or hot plate
Comes in plastic container with double wrap plastic sealed
"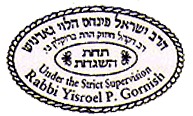 Rabbi Gornish
Rabbi Gornish